Adopting the Med style of eating may also be protective for macular health, an area of health concern as we age. The eye's macula is the area of our eyes that is responsible for our sharpest central vision. 
Med Diet Associated with Lower AMD Risk
Over the past decade, many studies have shown that following a Mediterranean (Med) style diet can have powerful heart health benefits. It's a diet rich in fresh fruits and veggies, seafood, whole-grains and monounsaturated fats (the type in olive oil), and relatively low in meats, sweets and dairy.
According to growing evidence – the newest published in November, 2016 in the journal Ophthalmology – adopting the Med style of eating may also be protective against age-related macular degeneration (AMD), a leading cause of vision loss in those of us aged 50 and older.
In the latest study (1), researchers used a Med diet score to assess adherence to the diet and prevalence of AMD in over 4,750 participants 65 and older from 7 study centers across Northern and Southern Europe.
Compared to those with the lowest Med diet scores, people who were best at sticking with the diet had a 47% reduced risk of advanced AMD.
Below is the Mediterranean Diet Pyramid (from the Aug. 2008 Staying Healthy entitled Mediterranean Diet Gains Momentum), which canserve as a model to help get started. Here's to good visual health in the New Year!
Handful of Nuts Daily Lowers CVD & Chronic Disease Risk
Several of the intervention studies that have evaluated the effect of the Med diet on cardiovascular disease (CVD) risk, have shown that adding some nuts daily to the diet confers protection against developing CVD. Nuts contain many bioactive compounds and are high in magnesium, fiber and polyunsaturated fats. Walnuts and pecans in particular are good sources of antioxidant nutrients.
A new analysis of 20 studies (2)that examined nut consumption and risk of CVD as well as other chronic diseases was conducted by university researchers from the UK and Norway. The studies included in the analysis involved over 800,000 participants and included many thousands of cases of heart disease, stroke, CVD and cancer.
The analysis found a consistent reduction in risk across many different diseases with nut consumption. One serving (28 grams or 1 oz.) per day increase in nut intake was associated with a reduction in risk of 29% for coronary heart disease, 21% for CVD, 15% for total cancer, and 22% reduction in risk of all-cause mortality. The results were similar for tree nuts (such as walnuts) and peanuts.
The take home message is clear: add a handful of nuts daily to the heart- and possibly eye-healthy Mediterranean style of eating.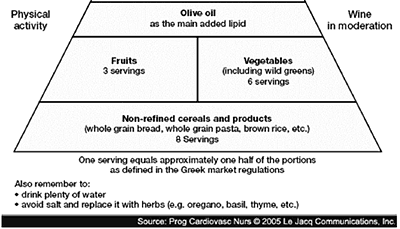 References
Hogg RE, et al. Mediterranean diet score and its association with age-related macular degeneration: The European Eye Study. Ophthalmology. [Epub ahead of print] Nov 5, 2016.
Aune D, et al. Nut consumption and risk of cardiovascular disease, total cancer, all-cause and cause-specific mortality: A systematic review and dose-response meta-analysis of prospective studies. BMC Medicine. 14:207, 2016.                                                                                                                                                                                                                                                                                   Read more: http://www.sciencebasedhealth.com/ContentPage.aspx?WebpageId=649                                                                                                                                                                                            Source: Science Based Health                                                                                                                                                                                                                                                                                         Image: dr oz